1 in 3 women and girls experience physical or sexual violence in their lifetime
UN Armenia launches the 16 Days of Activism against Gender-Based Violence campaign
26-11-2019 18:18:00 | Armenia | Press release
Yesterday, on the International Day for the Elimination of Violence against Women, United Nations in Armenia organized a press conference in UN house, dedicated to the International Campaign of the 16 Days of Activism against Gender-Based Violence to combat and prevent violence and harassment against women.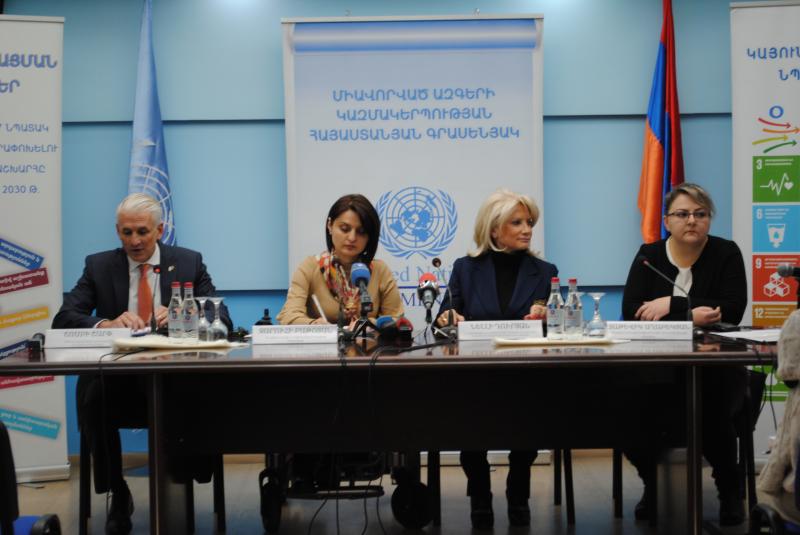 This year from 25 November till 10 December, Human rights day, the campaign will run under the slogan: "Generation Equality: Stop sexual harassment", focusing on sexual harassment in different areas of life, combating and preventing violence and harassment against women.
"Globally, one in three women and girls experience physical or sexual violence in their lifetime, most frequently by an intimate partner", - UN Resident Coordinator in Armenia, Shombi Sharp said during his speech, - "Violence against women is a violation of human rights, as well as a serious discrimination against women and a threat for gender equality".
Sharp also noted that UN team, remain absolutely committed to work with government, civil society, with everyone to prevent violence against women and ensure gender equality and women empowerment both economic
and political. "Altogether, I believe, can be considered as single most important accelerator in achieving the Agenda 2030 of Sustainable Development Goals".
In her speech, RA Minister of Labor and Social Affairs Zaruhi Batoyan presenred recent government decisions related to the field and outlined the expected changes.
"The Government of Armenia has rejected all forms of violence at all levels and emphasizes the importance of prevention of violence against women, as well as the economic and political activity of women", said Minister Batoyan. The government's programmes are to create equal opportunities for young women in Armenia, because otherwise there cannot be happy and secure society".
In addition, the Minister noted that the Government has established a Central registration procedure, which will allow starting from 2020 gather and keep all data on domestic violence in one platform.
During the press conference RA Police Head of Department in Regards to Juveniles and Domestic Violence, Nelly Duryan presented the statistics of 2019 cases, related to the field: "During the 10 months of 2019, 378 cases of domestic violence were investigated in Armenia, against 585 of the last year. In total, 2682 domestic violence alerts were received by the police, and 1533 violators were registered".
Duryan also said, that according to information received from the Police information center, 84 cases of crimes against sexual freedom and sexual inviolability were recorded in Armenia during last 10 months, against 78 cases, registered last year, 49 crimes were committed against minors, against 47 cases registered last year.
Tatevik Aghabekyan, Programme Director at Sexual Assault crisis center, noted that women need a lot of strength to make a decision and apply to law enforcement agencies. "They need a lot of resources and they struggle every day to prove the guilt of the guilty. Today in Armenia, the burden of the proof of the guilty person rests mainly on the person being sexually assaulted".
***
The 16 Days of Activism against Gender-Based Violence is an international campaign that takes place each year. It commences on 25 November, the International Day for the Elimination of Violence against Women, to 10 December, Human Rights Day. It was originated by activists at the inaugural Women's Global Leadership Institute in 1991 and continues to be coordinated each year by the Center for Women's Global Leadership. It is used as an organizing strategy by individuals and organizations around the world to call for the prevention and elimination of violence against women and girls.
In support of this civil society initiative, under the leadership
of the UN Secretary-General, António Guterres, the United Nations Secretary-General's UNiTE by 2030 to End Violence against Women campaign (UNiTE Campaign), calls for global action to increase awareness, galvanise advocacy efforts and share knowledge and innovations.
Launched in 2008, the UNiTE Campaign is a multi-year effort aimed at preventing and eliminating violence against women and girls around the world. UNiTE calls on governments, civil society, women's organizations, young people, the private sector, the media and the entire UN system to join forces in addressing the global pandemic of violence against women and girls. The campaign builds on existing international legal and policy frameworks and works to synergize the efforts of all UN offices and agencies working to prevent and end violence against women and girls.
<!a href="https://www.nt.am/en/">News from Armenia and Diaspora - Noyan Tapan<!/a>
---
Read 297
Noyan Tapan - Նոյյան տապան
Facebook Group · 3 365 անդամ
| | |
| --- | --- |
| | Միանալ խմբին |
---
---
---